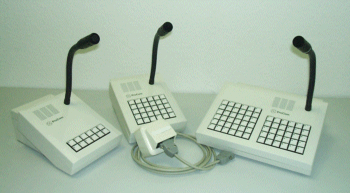 For communication in industrial plants, railways, in halls and extreme sites, the quality and technology incorporated in to the call stations must ensure the instant transmission of high intelligibility speech even under the most severe environmental conditions.
The call stations produced by ProCom consist of additional resources to improve transmission quality, dynamic compressor for transmission of a determined microphone level, volume control adjustable with push buttons within a pre-set level range.
---
According to the application and environmental influences, whether rain or snow, heat or high humidity, oily or aggressive atmosphere, vibration and noise, the acoustic signal must be clearly audible.
Therefore the call station types are numerous:
Desktop and flushmount stations, wallmount stations, weatherproof and explosion proof outdoor stations, and even stations which are connected to two exchanges simultaneously for sensitive application on offshore platforms and nuclear power plants.
---
All types of stations have their own intercom station electronics, with microphone pre-amplfier and dynamic compressor, loudspeaker amplifier and power amplifier for the additional connection of external pressure chamber loudspeakers. Integrated LED's are fitted for signalling of call and engaged condition or for display of other functions.
In addition to the display, acoustic signals or pre-recorded messages can also be transmitted.
All call stations are operated with a remote DC supply.
---

The loudspeakers used are also matched to the various applications, whether ceiling assembled, wall mounted, column speakers, weatherproof or explosionproof pressure chamber loudspeakers or loudspeakers with bi-directional broadcasting for railway platforms, all of them must be calculated for their purpose in such way that the highest possible sound quality is achieved.