Rings for Slew Bearings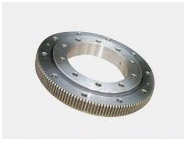 Narfoamkar supplies large diameter bearing rings for a broad spectrum of applications. The rings for slew bearings are manufactured in a wide range in sizes from external diameters of 500 mm to 4500 mm. The rings for slew bearings can support axial, radial and moment loads simultaneously. The Roller can be balls of cylindrical rollers. This type of bearing is used with slewing units of construction equipment such as power shovels and track cranes, loader and carrier equipment such as deck cranes, machine tools and parabolic antennas.
Gear Rings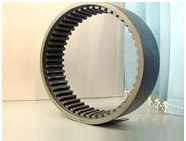 We have the expertise to deliver seamless rings in Carbon Steel and Alloy Steel to be used as Gear Blanks in Forged or proof machined condition with below mentioned specification. Proper control is exercised during manufacturing at all stages i.e. from material procurement to dispatch to ensure Quality and Commitment. We also provide slew rings, rings for slew bearings, bearing shells, etc. used in various industrial sectors like wind energy, automobile, material handling, power and defense sectors, etc.